AMGROS ORGANISATION
The most important task for Amgros is to to secure the right medicines for patients at public hospitals. At the right time, at the right place, at the right price, and always with an eye to protecting the environment.
At the same time, we ensure stable supplies, regardless of whether this involves the medicines we buy or medicines produced at hospital pharmacies. And regardless of the position of the specific product in the lifecycle of a medicine.
Amgros is organised under two main areas
Negotiation, Tendering Procedures and Supply

Automation and Quality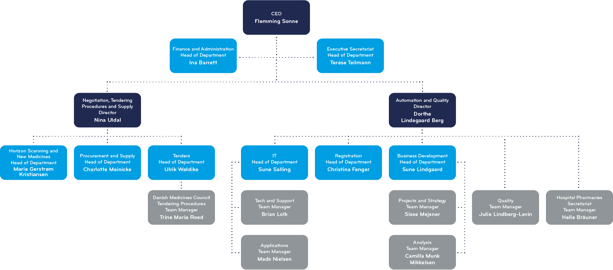 NEGOTIATION, TENDERING PROCEDURES AND SUPPLY
At Negotiation, Tendering Procedures and Supply we create the basis to procure medicines at the best price. We do this by organising tendering procedures and negotiations to achieve rapid implementation and good prices.
We also forge cohesion and transparency in the supply chain. By exploiting various methods to secure medical treatment, and by keeping abreast of medicines needs so that we can react early to potential shortage situations.
Negotiation, Tendering Procedures and Supply is managed by Director Nina Uldal and consists of: Procurement and Supply, Tenders, Horizon Scanning and New Medicines.
AUTOMATION AND QUALITY
At Automation and Quality, we exploit knowledge and skills to develop new solutions. We do this by automating processes and improving the quality of systems, documentation and data to ensure compliance, efficiency and stability.
The area is managed by director Dorthe Lindegaard and consists of: IT, Business Development, Registration, Quality and Hospital Pharmacies Secretariat.