SAD pharmaceuticals generally cover patients with special needs, and in many cases they cannot be purchased from the industry. Therefore, they are an important component in the supply of pharmaceuticals for hospitals. There are many changes in the lifecycle of a pharmaceutical.
In collaboration with the hospital pharmacies, Amgros makes sure that drugs comply with all the relevant rules and standards. This helps secure high quality and safety for patients. Amgros is responsible for submitting amended documentation to the Danish Medicines Agency for marketing licences for around 61 SAD pharmaceuticals.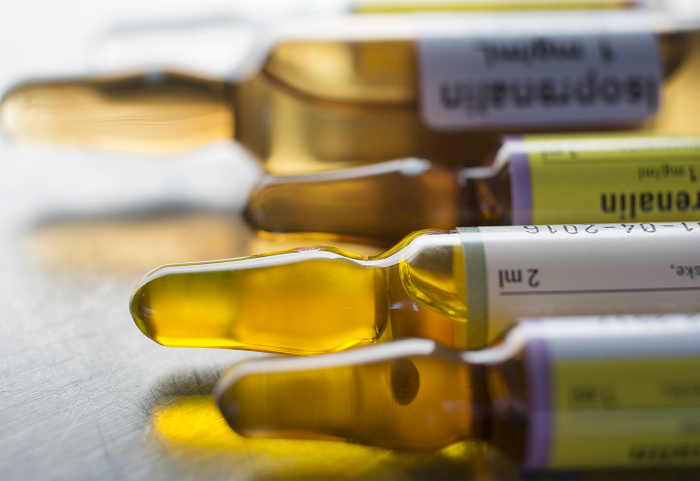 Photographer: Anne-Li Engström
PRODUCTION
SAD pharmaceuticals are manufactured at three of the eight hospital pharmacies. Amgros supports production by coordinating complaints management. We deal with administrative tasks regarding labelling, packaging and shelf life.
RAW MATERIALS
On behalf of the hospital pharmacies, Amgros procures many of the raw materials used by hospital pharmacies in their production. This saves resources at the individual hospital pharmacy. We analyse the market and ensure the correct quality of the raw materials delivered for hospital pharmacy production. We do this by coordinating audits of suppliers. We also check that suppliers live up to current regulations and standards, and that they have documentation in place.
PHARMACOVIGILANCE
Amgros monitors SAD pharmaceuticals to enhance safety for various patient groups and in situations where the drugs are used in combination with other drugs. In addition to studies of the literature on the area, this work includes information from patients, physicians, the pharmaceuticals industry and authorities in Denmark and abroad.
If the hospital pharmacies change the way they manufacture a pharmaceutical, or if monitoring of pharmaceuticals gives rise to changes in how clinics use or manage the pharmaceutical, we will send a variation application to the Danish Medicines Agency. Amgros will also update the product summary for the pharmaceutical, and communicate the changes to the clinical pharmacists.
!
Report side effects
Anyone can report side effects from using a SAD drug directly to Amgros via email to safety@amgros.dkor by contacting Quality and Registration of Pharmaceuticals on telephone +45 88713000.